Accommodation Features·Facility
Accommodation Features·Facility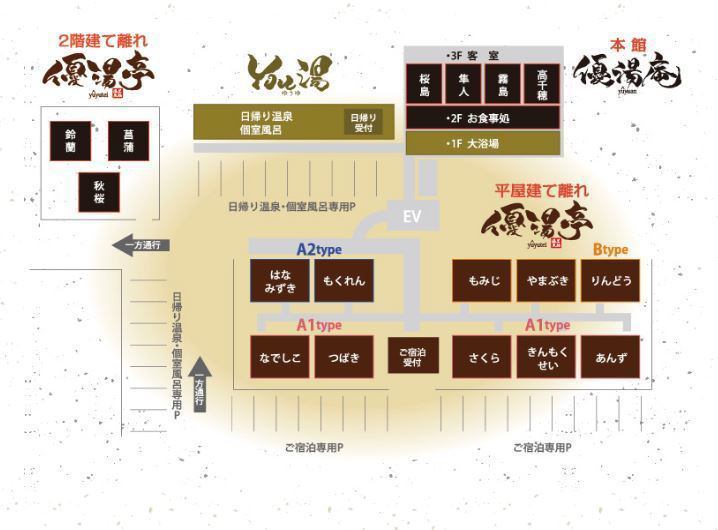 Information on free Wi-Fi connection service

Youyu-an, we set up a wireless LAN access point in all the rooms and established an environment where the Internet can be used by "Wi-Fi connection".
Wireless LAN service can be used in all rooms and facilities free of charge if you bring wireless LAN internal computer, tablet terminal, smartphone etc.
Please use it in various scenes such as sightseeing and business.

【Available devices】

·LAN / wireless LAN(Wi-Fi standard)Adapter internal PC
·PC with Windows XP or higher, Mac OS X or higher OS
·Wireless LAN(Wi-Fi standard)Supported iOS devices(iPhone, iPad etc.)
·Wireless LAN(Wi-Fi standard)Android Equipment(Smartphones · Tablet PC etc.)

【Area where Internet connection service is possible within the facility (Wi-Fi connection)】

·In all rooms
·front desk
·Restaurant(Main building 2F)

【Procedure for using Wi-Fi】

※For details please see the in-room information.

1., Open the network selection screen of your terminal
  If you do not want automatic recognition, please set "Wi-Fi setting effective".

2., Select the network of the Wi-Fi setting screen (It is written in the guidance in the room. )

3., Please enter "Password". (It is written in the guide in the room.)

After entering "Password", it will be connected to Wi-Fi, so please use it freely.

※The connection may be disconnected when moving the location while it is connected.

【Precautions for use】

·Rental of wireless LAN adapters, notebook PCs, smart phones, tablets etc. for external connection is not done.
· For free Wi-Fi, we are implementing it as part of providing further services to customers, but it does not guarantee 100% Internet environment.The service may be suspended without notice due to communication facilities, lines, provider faults, etc.Please note.
·Although the communication speed provides a permanent connection environment, please understand beforehand that it may be slowed down or not connected depending on the customer's connection environment and line congestion situation.
·Please understand that we can not provide any support on our personal computer and communication terminal environment and various settings.
·As for the security of terminals connected to personal computers etc., we ask that you protect and manage at your own risk.


·The hotel can not assume any responsibility in regard to virus infection caused by customer's own operation, interception of communication, leakage and disappearance of information, other unauthorized computer access, impersonation operation, malfunction of the user terminal and other damage.
·We are kindly requested to refrain from sending and receiving large amounts of data, continuing to use for a long time, connecting acts affecting the system, and illegal acts.In the event of discovering this behavior, you may disconnect your terminal from this system without prior notice.
·Please understand beforehand that it can not answer inquiries concerning information (including IP address) etc. of system etc for security reasons.

Information on acupressure massage · aroma massage

We arrange for reservation (advance booking necessary).

※It will be treatment in the guest room.
※There are things that we can not accept depending on the time zone of the day.Please note.
※Pay the fee directly to the practitioner.

Half an hour, ···, Face or foot, or, torso, anything, 3,500 yen
60 minutes, ···, Whole body, ¥ 7,000

Aroma treatment
While using organic organics essential oils, enjoy the scent, care for your body and mind, and balance.

[Organic essential oil]
It is an essential oil that does not rely on agricultural chemicals and chemical fertilizers but distills from the plants that grew up making use of the natural blessings such as the sun, Wednesday, Saturday ground, and animals there, and additives at all steps from cultivation to processing .

Shiatsu massage

I gently tear off the fatigue and stiffness accumulated in the whole body.

We arrange for reservation (advance booking necessary).

※It will be treatment in the guest room.
※There are things that we can not accept depending on the time zone of the day.Please note.
※Pay the fee directly to the practitioner.

【Acupressure】
Half an hour, ¥ 3,500
60 minutes, ¥ 7,000

Thai traditional massage

Thai traditional treatment method called "the world's best feeling"


We arrange for reservation (advance booking necessary).

※It will be treatment in the guest room.
※There are things that we can not accept depending on the time zone of the day.Please note.
※Pay the fee directly to the practitioner.
※Men are also available.


【Thai traditional massage】
With a combination of stretching and massage, doubling the muscle loosening effect!
45 minutes 4,300 yen
60 minutes 5,700 yen

【Thai Oil Massage】
Because I massage using Phlai (Thai ginger) oil, the temperature rises and the immune system improves.
6,800 yen/60 minutes
9,900 yen/90 minutes

【Thai style foot massage】
For those who are concerned about fatigue, swelling, it is recommended.
3,300 yen/30 minutes
4,800 yen/45 minutes





| | |
| --- | --- |
| | Ten: 00 to 21: 00 ( Final receptionist 19: 30) |
Number of rooms

Total number of rooms 17
Western-style breakdown:3 double rooms(40 to 56 m²) / 14 twin rooms(43 to 50 m²)

Room supplement

All rooms with a running sink and guest room with outdoor bath
Non smoking room ... 9 rooms
Smoking room… 8 rooms

Standard room facilities

Bath toilet / shower / air conditioner / TV / DVD player / liquid crystal TV / safe / satellite TV / fridge / kettle pot / hair dryer

Internet related

All rooms available
[Connection method]Wired LAN / Wireless LAN
[PC rental]No
[Internet connection]Free

Amenities

Men & Women Skin Care Supplies / Face Towels / Toothbrush·Toothpaste / bath towel / shampoo / rinse / body soap / yukata / hair dryer / duvet
Shaving / shower cap / cotton swab·Cotton / comb·Brush / green tea / deodorant spray

Service & Leisure (including arrangement)

Shiatsu massage(Reservation system·Toll) /Aroma massage(Reservation system·Toll)/Thai traditional massage (Reservation system·Toll)

Credit cards available locally

Visa, JCB, American Express, Diner's Club, NICOS, UFJ Card Rakuten KC (Gift certificates·Coupon can not be used)

※The use of credit cards is limited to customers who make phone reservations and bookings from the home page of this facility.

Standard check-in time

16:00

Standard checkout time

10:00

Barrier free correspondence

Use of elevator when wheelchair rental / floor move

Onsen tax

Hotspring tax adult 150 yen separately.

Cancellation provisions

3 days ago - 1 day ago:50% of the room charge
On the day of arrival:100% of the accommodation fee
Cancellation without any contact:100% of the accommodation fee
[ Special period·Groups of 6 or more ]
7 days to 4 days prior: 20% of room rate
No contact without contact: 100% of the accommodation fee

※It may differ from the above in the plan and schedule described in the special price notation.
※If there is a cancellation rule setting for each accommodation plan, that will be given priority.
Hot Springs

Hinatayama Onsen(Natural hot spring 100%) Hot Spring Baskdown ※It does not include artificial hot springs

Open Air Bath

Yes (There are also men and women (including time change) · Available for private use)

Private Bath

There(Conditioned)

Number of baths

"Outdoor bath] Man: 1 Female: 1 Mixed Bath: 0
[Inner bath] Man: 1 Female: 1 Mixed Bath: 0
[sauna] Man: 0 Female: 0 Mixed Bath: 0

Other bath facilities

Jacuzzi(Conditioned)

Bath Terms of Use

·Bath with open-air bath ... Guests free from 6:00 to 24:00 to drop by / 500 yen
·Private room bath(Private charity hot water)... Guest 1 hour 1,000 yen 24 hours Sales 11 rooms / 1 hour From 1300 yen Completion of cooling and heating washbowl toilet break room ※Reservations not accepted
·Public bath / private room baths ... shampoo, rinse, Body Soap, Hair dryer available